Free Ebook-Moms Guide Earn Passive Income
I have created an ebook especially to share free with moms. Why I want to have this Ebook "Moms Guide- Earn Passive Income Online"? I always receive enquiries about how to earn money online and how to start internet business. This make me start to think about how I can help moms in a more efficient way. At the same time, I also hope moms can work less, earn more and spend more time with family.
It is not impossible for moms to work less and earn more. The point is you need to understand about Passive Income and work for Passive Income. With this report, you will find: -
What is Passive Income
Why Passive Income
Examples of Passive Income
How to earn Passive Income
Programs offer Passive Income
How to Earn with this Report
What is so special with my report?
You can rebrand this report with your own affiliate links and give away to your friends as free gift or bonus. Anyone join under your affiliate links, you earn money. So, just share this report to all your friends.
I have attached you the guide and tools for rebrand and therefore you should have no worry about the rebrand part.
If you don't want to rebrand the ebook but think to share my report with others, you may invite them to get the report from my site or or send them the link below directly so that they can get the rebrand ebook and tools. However, I strongly encourage you to give away your own rebranded report as it is designed for you to earn Passive Income.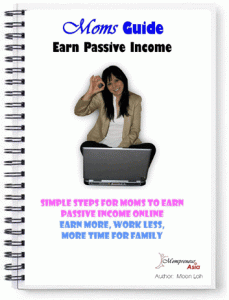 Get your free Ebook NOW at: http://mompreneurasia.com/free-gift

My Experience on Creating this Report
This is the story behind the report.

It is not easy to complete this report (or you may call it an ebook). This is a 12 pages thin ebook. I don't want to write it too long as I understand most people like to read short story or notes. Long pages normally make people fall asleep.

I faced some difficulties when creating this ebook. Luckily I get the solution from Google Search (most of the time Google Search is my teacher) and also the support from ViralPDF. I especially want to thank Sean Kelly from ViralPDF.
This is my first Ebook and I really hope you enjoy.
Remember to rebrand it and give it away and share with your friends.

Filed under My Sharing, Work At Home Mom