How To Manage Your Schedule As A Work At Home Mom
Working from home can be a challenging affair. There are the kids to look after, the vessels to be cleaned, and the laundry to be done. The list of your domestic chores may never seem to end, and then there's that important mail you need to write to one of your clients. Things could get real hectic for a work at home mom. However, there are many ways of managing your time at home and organizing your time in such a way that you don't end up neglecting your home or your office.
Organizing your day
As a work at home mom you will perfectly understand the need to organize your day so that you smoothly balance family life with work. What is the best time for you to work? It could be ideal for you to sit down with your work when your kids are out to school or playing with their friends. Find some free time in your day where you can sit with your work without any distractions. Make sure to also give enough time to your family as one of the main reasons for you to take up a home based job is to be around your family.
Avoid overburdening yourself
When you are taking care of your kids at home, make sure that you don't try and answer a business call. Multi-tasking might come naturally to a woman; however it is highly not recommended as it could overburden you with too much work. Make a list of all the things that you would like to do throughout the day and try not to add extra activities. There's only so much you can do throughout the day, always avoid pushing yourself too hard.
Creating an ideal work environment
One of the downsides of working from home is the lack of a work ambience. When you work from an office, the work ambience is well suited for you to sit and complete your work. On the other hand when it comes to working from home there are a thousand distractions to keep you away from your work. It will greatly help to create a workspace of your own, a little away from the activities of your home and particularly the television. This could be a small quiet room in the corner of your home where you can peacefully sit and do your work. You can set fixed hours in the day when you will be available in this workspace so that when your clients call you, you will not have to ask your children to be quiet or your husband to turn down the volume of the TV. Working from a well-organized office space will also help you get a sense of professional feeling and you will feel all the more interested in your work.
Enjoy yourself
Your family and your home business might be very important to you. However, you are equally important to yourself. Giving yourself some time off from your family and home business will help you relax and reward yourself for all the hard work that you put in. Always make sure that you are good to yourself, in the same way that you are good to everyone else around you. Once a week you could take off from your work and your family and treat yourself to a soothing massage in your neighborhood spa or indulge in any activity that you enjoy.
Working from home can be a highly rewarding experience, especially when you learn to manage your time and skillfully organize the various tasks of your day. It's always a pleasure to be near your children and watch them grow, as well as watch your very own home business flourish and prosper.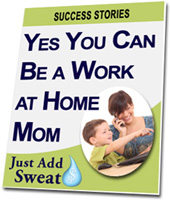 Filed under Work At Home Mom