Mixed Seafood Tom Yam Recipe
Mixed seafood tom yam is another dish I like very much. Now you know my favorites are those hot and sour types. Hehe..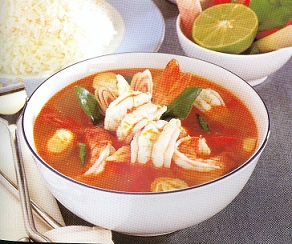 Normally I will buy the tom yam paste from the supermarket, mixed the paste with the seafood and make them mixed seafood tom yam soup. This is my lazy way and it's not good to do in this way.
If you want to taste the fresh and original tom yam soup, just follow the recipe below.
Ingredients
8 freshwater prawns, shelled and deveined with tails intact or you can choose not to shell the prawns
150g sotong, cleaned and cut into pieces
2 blue crabs, cleaned and cut into halves
5 pieces red snapper fish meat
100g abalone mushrooms
20g galangal (lengkuas)
3 stalks lemon grass (serai)
12 cilipadi
3 roots Chinese parsley
4 tbsps chilli paste in oil (Nam Prik Pao)
6-8 kaffir lime leaves (daun limau purut)
Seasoning:
1 tsp salt, or to taste
1-2 tbsp fish sauce (nampla)
3-4 tbsp lime juice
1 tbsp oil
2 tbsps Maggi chicken stock granules
Monosodium glutamate to taste
Garnishing:
Method
Smash the galangal and lemon grass slightly. Put them in a pot, add the cilipadi, parsley roots and chicken stock. Bring to a boil and add nam prik pao and kaffir lime leaves. Simmer for 10 minutes.
Put in all the seafood ingredients and mushrooms and bring to a boil until the seafood is cooked. Add in seasoning to taste. Serve hot and garnish with coriander leaves.
Enjoy yah!

Recipe by Amy Beh
Filed under Cooking Recipes