I just found some great freebies for U Moms!

Be A Great Mama - Be a Great Mama is a packed 29 page guide with advice and creative ideas for being the best mom you can be.
Being a Role Model

Showing Unconditional Love

Being Consistent

Protecting Our Kids

Giving Them Choices

Playing with Your Children

Giving them Praise

Avoiding Bribery

Controlling Your Anger

Listening to Your Kids
Find The Time Mama - Tired of Drowning & Feeling There's No Time for Yourself? Find More Time for You… Without The Guilt!
Why you need to find the time for yourself

How to find that time

Does being a mom mean having no life?

Dealing with an unsupportive partner

Getting rid of the guilt

Fun ideas for a mom out on her own
Hot Mama Makeover - Step-by-Step and Easy-to-Follow Guide For Moms Who Need to Feel Just a Little Bit Sexier & A Whole Lot More Confident.
It's no secret. We're all busy moms and you're no exception. Some of us are dedicated stay at home moms,  others work outside the home and some of us work from home – and whatever we do, it always seems like there isn't enough time in the day.

Despite your role as mother, wife, cook, cleaner, chauffeur, career woman, etc. etc….you are still a WOMAN and that woman needs to be taken care of. So, how do you do that?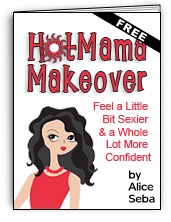 Hope you enjoy the above freebies!

Filed under My Sharing, Work At Home Mom