Work At Home – It's Free to Join EmailCashPro
I joined EmailCashPro since one year ago and like many others, I chose to join those free to join programs so that I wouldn't get scam! And EmailCashPro is actually my first step towards a work at home mom.

Yes, you don't need to pay a single cent to join EmailCashPro. All you need to do is to register an account with them and they will send you emails which include a link for you to click and read the advertisements.
The advertisements might be useful or might not be useful to you, but for every single slick on the link and let the advertisements run for 30 seconds, you earn points. Their system will then convert the points to money ($$$).
This program is pretty simple and for lazy people like me who don't like to log in their website to click on the ads, EmailCashPro has made the things convenience by email the link me. Their email is quite consistent and normally I will get their email every two or three days once. Sometimes they will send more than one email per day, meaning that more links for me to click on, more points I get to earn.
Just a little thing for you to take note:
*Don't click on the link at the 2nd email before they credited you the first ad's point. You need to wait 30 seconds before you can open another ads they send you.
Well, be frankly with you, this program will not make you lots of money if you are only click the links and read the emails by yourself. This is an Affiliate Program and you need to introduce it to your friends so that they joined under you. More friends join under you, more points (money) you will get. They have a Referral Resource for you where you may use the techniques to invite friends to join the program.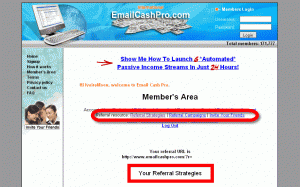 If you feel that their strategies are not sufficient for you and you want to know more techniques on how to promote this free  program and earn more money, you may get more information from Mompreneur Hub. There are many ways to promote Affiliate Program and all the methods are proven effective.
I encourage you to join EmailCashPro if you are a stay at home mom or work at home mom who look for some make money online opportunities. The reason is very simple, IT'S FREE! You will definitely learn something and earn from this program.

Filed under My Sharing